New York Giants' Strategy Is Simple, Attack Injury-riddled Panthers' Secondary
New York Giants: 5 Players to Watch vs. Carolina Panthers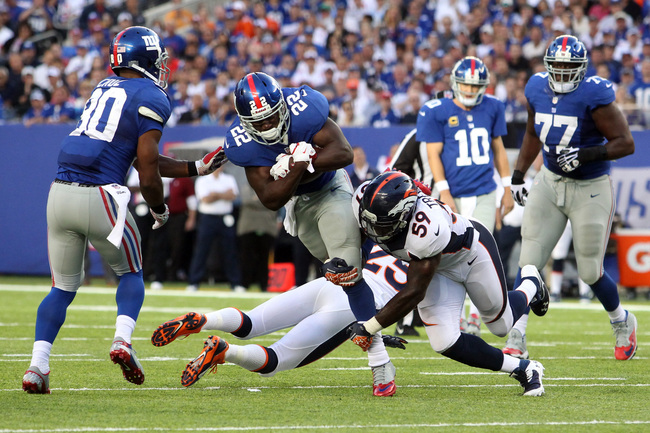 In addition to Godfrey, who is out for the year, starting safety Quintin Mikell is out with an ankle injury, and starting cornerback Josh Thomas will miss the game with a concussion. Reserve cornerback DJ Moore sprained a knee and was ruled out against the G-men earlier this week, while backup cornerback James Dockery will be a game-time decision. Dockery has not played this year after sustaining a thumb injury in the preseason. New Carolina general manager Dave Gettleman brought back veteran cornerback Drayton Florence, who was cut by the Panthers in preseason, and things are so bad in Charlotte, that he will start on Sunday. Fresh off the practice squad, Carolina signed Robert Lester and inserted him in the starting lineup as well at the strong safety spot. Reserve Mike Mitchell will start as the free safety in the Panthers' scheme. Captain Munnerlyn is the lone starter healthy enough to suit up for the contest against the Giants, but Munnerlyn is short (5'8″), so expect New York to try to expose a height differential with Rueben Randle, especially in the red zone. The Giants' Eli Manning is second in the league with 812 passing yards after two games; he is one yard behind Aaron Rodgers for the top spot. Meanwhile, Victor Cruz has 236 receiving yards, good for third in the entire NFL, and Hakeem Nicks has 197 receiving yards after two games. Tight end Brandon Myers has 140 yards receiving this season, and he caught a touchdown pass in week one against Dallas. New York's offensive problems can be summed up in one word: turnovers.
Theyre battling and scrambling just like we are, but I certainly do recognize the fact that theyre a good team. Just how good can a winless team actually be? The Panthers have been outscored 36-30 so far, and have the sixth-best rushing offense, led by DeAngelo Williams, who has 171 yards on 39 carries and a 4.4 yards-per-carry average. The Panthers are also fourth in the league on third-down conversions, thanks to the contributions of receiver Steve Smith and tight end Greg Olsen. Perhaps the biggest test for the Giants when they meet the Panthers on Sunday at Bank of America Stadium is, that in Newton, theyll face the first of several scrambling, option quarterbacks that are coming up on their schedule. Coughlin said that the coaching staff spent a great deal of time studying how to best defend quarterbacks capable of running the option, and that he feels confident with where the team is at in terms of making progress in that area. Weve studied in the offseason and studied a lot of these option-type quarterbacks and we have a plan, he said.We havent really been tested in that area, but we have worked in training camp on responsibilities. Im confident well have a guy in the right place, hopefully at the right time. The key to succeeding against Newton, according to Giants safety Antrel Rolle, is to remain alert. You have to stay active more importantly than anything and stay and play within the defense, he said. Dont try and do too much. If the opportunity presents itself, make the play thats given to you. Other than that, just play within the defense, play smart, and play sound technically. Besides wanting to avoid an 0-3 start for the first time since 1996, the Giants players want to make sure they put a smile on the face of their head coach, who this week lost his younger brother John. Despite the tragic circumstances of John Coughlins passing from a freak accident, as reported by the New York Daily News , his older brother has somehow managed to stay focused in preparing his team for the challenges posed by the Panthers. Coach Coughlin will see the game through to the end before getting away for a day to attend his brothers funeral. His players have taken note of how their head coach has gone about his business this week, and theyre determined to put a smile on his face with a winning effort. Anytime you have to heal somebody in your circle going through a hardship, you always want to do your part to pick them up, said defensive end Justin Tuck, who last year went through his own personal strife in losing his grandfather and uncle within a matter of weeks.
Annual American Community Survey shows New York City has the largest gap of income inequality in United States
Of major cities, New Orleans and Miami come close but dont surpass New York, according to Adam Bee, an economist in the income statistics branch of the bureau. Poverty persists in New York. In 2007, before the recession hit, 18.5% of the residents of the citys five boroughs lived below the poverty level. By 2012, 21.2% were living below the poverty line, defined as total annual income of $23,283 for a family of four. When the surrounding suburbs are included, 14.8% live below the poverty line. But there also is good news in the new numbers. More New Yorkers have health insurance, an increase largely explained by more baby boomers becoming eligible for Medicare. In the metro area, 12.8% lacked insurance last year, a drop from 13.2% in 2011. Other data is very eclectic. For example, there were 4,275 females between the ages of 15 and 19 in the five boroughs who gave birth last year. Of those, 91% were unmarried. There were 972,920 people employed in education, health care and social services in the city and just 5,320 employed in agriculture, forestry, fishing and hunting. The median household income in the entire metro area was $63,982 in 2012, nearly the same as 2011. Median household income in the U.S. was $53,607.